Black Friend
Biographical info
Species
Lycra
Gender
Male
Residence
Realm 6.2
Political info
Affiliation
Friend of Pink guy
Nationality
American (Most likely)
Characteristics
Alignment
Good
Attitude
Lewd
Abilities
Playing music
Miscellaneous info
First Appearance
SALAMANDER MAN'S PUNISHMENT (Fireworks Up the Ass)


2 GIRLS 1 ORGAN
Pink Guy - Anal Beads (ft. Black Friend)
Beautiful Love Song
WHY DID YOU LEAVE ME
NO NEW FRIENDS
WHY WE GET NOISE COMPLAINTS

"
You've been bad! So bad!
"
- Black Friend
Black Friend is one of Pink Guy's best friends. His most recent appearance was in "WHY WE GET NOISE COMPLAINTS" alongside HURSHES KiSess and Dade. He, along with Frank's other two friends, mess up before Frank kicked them out, which might imply that Black Friend's mental stability has deteriorated just like many other Filthy Frank characters.
About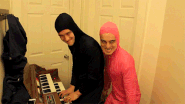 Black Friend has been Pink Guy's friend for a very long time. He usually joins Pink Guy on his musical endeavors, and is a surprisingly good screecher. He has been seen in various videos where he is unnamed. It is unsure whether Black Friend is the sole black Lycra being, or if he is part of a larger species. Black Friend and Pink Guy had a falling out several thousand chromosomes ago. This is proven by Pink Guy's hostility to Black Friend in the video "NOISE COMPLAINTS." Presumably, Frank befriended Black Friend in order to spite Pink Guy and the others, but he soon realized how unstable and fucked up Black Friend really is. The falling out between Black Friend and Pink Guy severely messed up Black Friend's mind, and he is now among the likes of HURSHES KiSess and Dade in his fucked-up-ness.
Abilities
Fireworks
Screeching
Playing the Guitar and Synthesizer
Vocal
Videos
Gallery
Trivia
Black friend wears a wedding ring and is possibly married. As shown here. And here.
Black Friend could be possibly played by Rei Brown.
He had the ability to projectile vomit chocolate in Noise Complaints, but in the behind the scenes, he can be heard screeching 'I'M SORRY'.