Cancer, also known as Cansur or Cancir/Cansir, is a very rare case of Lycra mutation. A notable character with this mutation is Pink Guy, who is known for saying the phrase "ey b0ss I habe cancer".

It is not known where many cancers emerge from, though one possible source is Old Man, who was featured in a video shouting at random citizens, "I hope you all get cancer". Another possible source of cancer is in the follicle preparation of 'HAIR CAKE,' a derivative of the infamous 'VOMIT CAKE,' whereby the entirety of human's head hair is sacrificed into the batter and baked in an oven atop a boxed copy of Chef. However, the most likely source is the Westboro Baptist Church, as those fuckers are pure cancer in semi-human form.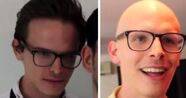 The secretly homosexual man, iDubbbz, experienced cancer shortly after the preparation of such a recipe, though it has not been confirmed whether or not this was the result of him smelling the Hair Cake right after it was done baking or some other related mechanism.