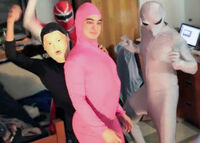 Do The Harlem Shake
, published on February 2nd, 2013, is
DizastaMusic
's most popular video with 51 million views and 150 thousand likes since its first upload. It is not widely known, but
Filthy Frank
was the original inspiration for the popular "
Harlem Shake
" craze of 2013.
Although he was not the first to coin the term Harlem Shake, as the original Harlem Shake goes as far back as 1981, it became popular again when this video was released. However, this version is very different from the original, so in a way he was first.
Video
Tags
Sometimes i fist myself with two loafs of bread hoping to turn into an inside out really fucked up looking sandwich so i was walking down the street and this shit stain came out of the bushes and was like "HEY, WHERE ARE YOU STAIN TONIGHT?" and i responded with "HAHAHA THATS FUCKING HILARIOUS JK I'M GOING TO FUCKING KILL YOU" and i did lol my favorite vegetable is my brother because he was in a car accident. 
Trivia
Filthy Frank has mentioned on Twitter that the Harlem Shake meme got old quickly and has disowned it immensely.
Community content is available under
CC-BY-SA
unless otherwise noted.