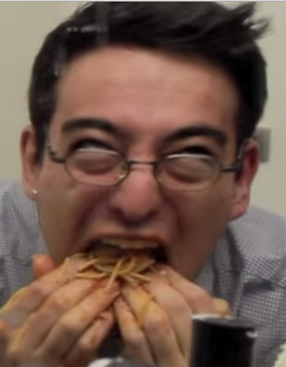 Mom's Spaghetti is a phrase uttered by Filthy Frank and Pink Guy on a few occasions.
Like Ravioli, Mom's Spaghetti is primarily kept in one's pocket/pocketoli. It may be a source of Chromosomes.
In FILTHY FRANK CHIN CHIN SACRIFICE, Filthy Frank suffers a serious 'MOM'S SPAGHETTI breakdown', in which the spaghetti makes a prominent appearance, as a part of Eminem's 'Lose Yourself' (from which the term is derived) plays repeatedly in the background.
It is not made clear if the Mom's spaghetti is made, or is a physical form of chromosomes bearing a resemblance to spaghetti consumed by the hakujins.