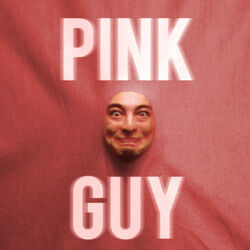 PINK GUY is an album by Pink Guy, released as his first studio album, as well as his debut. It was released on May 23rd, 2014 (Unconfirmed), as a free digital download. Many of the songs were previously released on YouTube via TvFilthyFrank. It has novelty, satirical, offensive, derogatory and even some non-music gags. The album also has a few experimental hip-hop and rap tracks, with complex and intricate lyrics with character comedy and word play. It features collaborations with Filthy Frank.
The album was a hit with fans, praising the album's abandonment of the concept of Political Correctness. Pink Guy's debut album is best described as a paradox, beautiful in all its filthiness. You could call this album the sonic personification of the Internet. Diseased rhymes coupled with dirty, cryptic, and disturbing humor: This is what the album delivers.
Tracklist
PINK GUY
Reception

Anthony Fantano, the creator of the music vblogging site The Needle Drop, unbiasedly reviewed the album, stating that it was just as he anticipated before reviewing it: "A lot of low-budget beats and ukelele tunes, set to humor that's so cheap Walmart can't even price match it". Fantano states that he was disappointed by the fact that he was not as offended by the content of the album as he believed he would be after listening to it: "There's nothing on this LP that I heard that would get Filthy Frank sentenced to life in prison in a court of law". Fantano also believes that sexism was not expressed enough as it was mostly targeted toward women, and "could have done more to offend every different gender type". One notable thing from his opinionated review was that he incorrectly stated: "Honestly, I don't think anyone died to make this record.", despite Dade inadvertently giving his life for this album.
Download
Free
Purchase
Triva