PolitikZ

ITS THE WHITE BOY THAT SAID IT
Biographical info
Full name
Unknown
Aliases
PolitikZ
Species
Human
Gender
Male
Relative(s)
Unknown
Residence
Filthy Frank PHD Research Lab, 3rd Floor (Quarantine Lab)
Political info
Affiliation
Underground Records, Pookie
Nationality
American (most likely)
Occupation
Internet Rapper
Rank
Bad Rapper
Miscellaneous info
First Appearance
BAD INTERNET RAPPERS
Role
Minor Antagonist
Actor/Actress
George "Joji" Miller
PolitikZ (pronounced pɒl.ɪ.tɪks.wɪθ.eɪ.ziː) is an internet rapper that appeared in 'BAD INTERNET RAPPERS' as a minor antagonist, where he was an experiment carried by Dr. Filthy. He has 42 SoundCloud followers and resides in the Filthy Frank PHD Research Lab located in Bautista (Chin-Chin Territory). He also has a record contract with Underground Recordz. 
History
PolitikZ first appeared in the video BAD INTERNET RAPPERS locked in a room on the third floor of the Filthy Frank PHD Research Lab. Frank thought PolitikZ was on the path to remedy, but was horrified when he suddenly started talking about his awful mixtape. While his doctor was in grief over his failed research, PolitikZ regained his voice and stole Frank's Smith & Wesson M&P pistol in magical way. He played said mixtape, but was killed in cold blood by Pink Guy and Salamander Man who arrived just in time before Frank went mad from listening to PolitikZ. He has also made a single titled "Hand On My Gat" in which he raps and displays his individual spiritual miracle. He hasn't appeared anymore since then, however he does appear on Pink Guy's album Pink Season in the songs "I DO IT FOR MY HOOD", "I HAVE A GUN" , his single "Hand On My Gat" is also on the album.
Speech
His voice is worn out, possibly from several years of bad rapping to Macklemore instrumentals, and he doesn't say much more than 'SoundCloud', 'Bruh' and 'Check out my mixtape'. It is, however, revealed that he can say 'Surprise, Surprise' as well.
He raps more than he talks, and has released "REAL HIP HOP" (Underground Recordz).
Appearance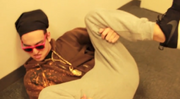 Politikz wears pink ray-bans, a black bandana over his head, a brown hoodie with a golden chain, as well as baggy, gray pants and Nike shoes. He also has bad forehead acne and little-to-no hair showing because it is covered by his doo rag that is used to enhance swag and get mad pussy. PolitikZ also sometimes wears scissors around his neck to show that he is a "real motherfucking gangsta" that should not be messed with.
Appearances
PolitikZ was introduced by Dr. Frank, phD in BAD INTERNET RAPPERS where he was killed eventually by Pink Guy and Salamander Man. Two of tracks from his unpopular, shitty mixtape were posthumously released on the TVFilthyFrank channel. They are Real Hip Hop and Hand On My Gat.
Quotes
"ey bruh, check out my mixtape mang!"
"Surprise, surprise!"
"I'M A SPIRITUAL LYRICAL INDIVIDIUAL SPIRITUAL MIRACLE"
"I GOT MY HAND ON MY GAT."
"I'MA KILL YOUR WHOLE FAMILY"
Trivia
It is believed that Barack Obama is the reason why so many white 15-year olds are turned into shitty SoundCloud rappers, especially due to the way that Obama campaigned his election in 2008, which is inspired by Martin Luther King Jr.'s "I have a dream", which would be the result of PolitikZ's catching of the disease.
He was obviously inspired by other popular rappers, including (but not limited to): Eminem, Tupac Shakur, Ice Cube, Eazy-E, 50 Cent, Snoop Dogg and Lil Wayne, although he hates him.
Community content is available under
CC-BY-SA
unless otherwise noted.