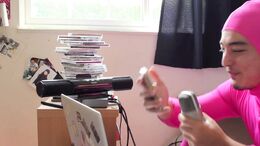 List of songs, freestyles, beats, covers or other musical artwork featured on the Filthy Frank show.
Do The Salamander (collab with Salamander Man)
FRIED RICE (Produced by Beeza)
Fuck The Police (NWA cover)
Beautiful Love Song (collab with Black Friend)
2 GIRLS ONE ORGAN (collab with Black Friend)
Crazy niggra (had to censor because spam filter had an autistic meltdown and broke the page)
Pink Guy Raps Tweets
Porn Title Rap
Rice Balls Instrumental (Bleep Blap)
Why Did You Leave Me (collab with Black Friend)
Ronald's Dream
Pink Guy Raps Tweets 2
Balls In My Face
Takoyaki Rap
Stir Fry
Pink Guy Sings Thrift Shop
Pink Guy - Gangnam Style
Freestyle Goes Wrong
Medicine Beat
I Have A Gun (collab with PolitikZ)
Young Thug Diss
Hood Rich (collab with Getter, Nick Colleti)
Time Police
Dumplings (Borgore Remix)
Fried Noodles (Getter Remix)
STFU (Tasty Treat Remix)
Are You Serious (Axel Boy Remix)
Pink Season: The Prophecy (collab with Borgore, Getter, Tasty Treat, Axel Boy)
Soulja Gonna WIn/F*ck Breezy (Soulja Boy Vs Chris Brown) #Dubai
Falcon Punch (collab with Captain Falcon)
Filthy Frank
Took It In The Bottom (Drake Parody)
U Got A Friend
I Am Beautiful (Insecurity Intensifies)
Anime Hunter
What A Wonderful World
Smonk Weed
E.T 2 Rap (Produced by Holder)
I Believe I Can Fly
Michael Jackson
Filthy
Pussy Tonight
Filthy Frank Intro (Smooth Faggots)
See You Again
Nobody Gives A Shit
Numb
Let's Get Down To Business
420 Blaze It
Kokujin's Paradise
Santa's Brother
PolitikZ
Salamander Man
PLAYING RECORDER WITH NOSTRIL
Salamander Man Exclusive Song
Lil D
Dicks (Swag Swag Swag)
Pedophile Swag
The Foreskin
Remixes
Background Music
Kevin MacLeod - Final Count
Vanessa Carlton - A Thousand Miles[14]
Touch (Sad Piano Music)[17]
Carl Orff - O Fortuna
Beethoven - Egmont Overture
Loud Lord - Grrreat! (Real Frank Intro)[18]
Baauer - Harlem Shake[22]
Loud Lord X xoxaineDEEZY - Paper Chasers (Fake Frank's Methods Of Transportation)[23]
French Cafe Music (Vomit Cake Music)[24]
Ran Off On Da Plug Twice[25]
LEFT SWIPE DAT (Cringey Anti-Teen Smoking Ads)[26]
Cory In The House Theme
Desiigner - Panda[29]
Bones - Okaybuthisisthelasttime (Bass Boosted)[30]
Frédéric Chopin - Prelude In E Minor (The Death Of Fake Frank)[31]
R. Kelly - Ignition (Remix)[34]
josh pan - real life (E.T 2 Song)[35]
Shamana - Dolphin Splash When I Whip It (Too Bad You'll Never Be Rad)[36]
Martina Eisenreich Quartett - Misirlou (Weeaboo Protection Chamber)[37]
Evanescence - Bring Me To Life[38]
Lil Jon & The East Side Boyz - Get Low[39]
Dubsidia - Kill Humans[40]
Skrillex - Scary Monsters And Nice Spirites[41]
Claude Debussy - Arabesque No. 1 [42]
Franz Schubert - Ave Maria[43]
Eminem - Lose Yourself[44]
Snoop Dogg - Ain't No Fun[45]
Loud Lord X Shamana - Sir Smokes A Lot[46]
Hans Zimmer - He's A Pirate (Ass Flute)[47]
DMX - X Gon Give It To Ya
The Notorious B.I.G - Big Poppa
The Lion King - The Circle Of Life
Others
Holder - Filthy Frank Intro Theme
Pink Season Promo (A War Is Coming)
MC George - Greatest Song Ever
Lemon - I'm A Lemon
A True Friend (RIP Harambe)
Guy Fieri - Flavortown
MMM WHATCHA SAY
Stephen Hawking - Balls
50 Fetus - In Da Whomb
Emonem - Mom's Spagget
Weeaboo Song
Frozen - Let It Go (For Kids​!)
My Brother Is A Vegetable
Ooh Yeah [48]
Birth of b0ss
Harry Styles Prank Call song
References
Community content is available under
CC-BY-SA
unless otherwise noted.